Mining for Gold and Other Minerals on Federal Lands
Posted on February 14, 2017
It's Valentine's Day and while some people may shop for flowers and chocolate, others may be seeking a longer-lasting gift like gold jewelry. But it's not just Valentine's Day that can lead to a gold rush. Mine operators can submit plans for the right to dig for gold and other minerals on federal lands throughout the year. Today's WatchBlog looks at
these mining plans and the agencies that review and approve them
.
Be mine
Two federal agencies, the Bureau of Land Management and the Forest Service, manage hardrock mining on federal lands. These two agencies manage about
450 million acres of federal land
—which is about 38 percent of the combined land area of 12 western states. If a mine operator (a person or company) wants to extract minerals from federal lands, they must stake a mining claim and submit a plan of operation to BLM or the Forest Service (depending on which agency  manages that land). The operators must also explain how they will reclaim the site once the desired minerals have been removed. Requirements for reclaiming the site vary, but generally involve re-sloping pit walls to minimize erosion, removing or stabilizing buildings to reduce safety risks, and removing mine roads, among other things. Once the plan of operation is submitted, BLM or the Forest Service:
reviews the proposed plan,
conducts an environmental assessment,
approves (or rejects) the proposed plan,
establishes a reclamation bond, which covers estimated costs associated with reclaiming the mine site once operations have ceased and that the agency can use to reclaim the site if the operator fails to do so, and
authorizes mining operations.
Between fiscal years 2010 and 2014, BLM and the Forest Service
approved 68 hardrock mining plans
, totaling 35,945 acres of the western United States.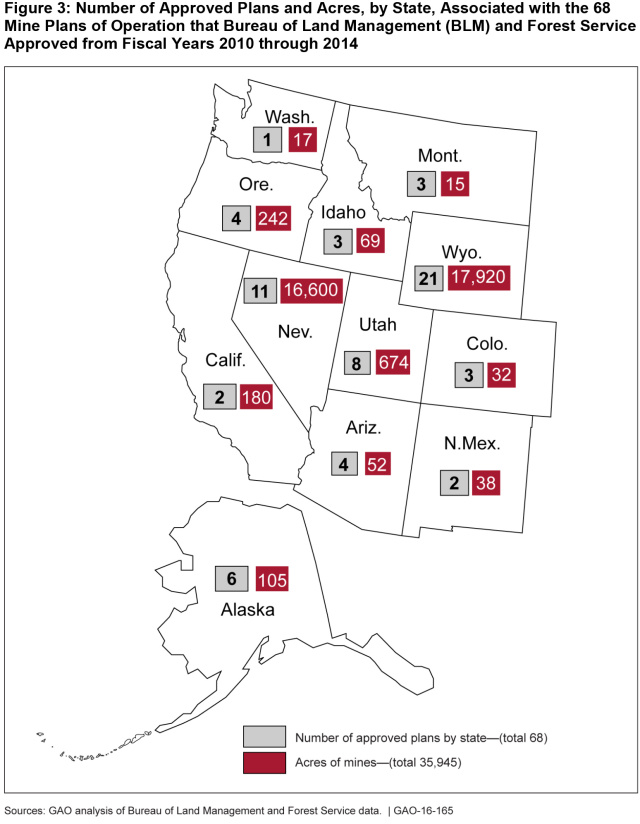 (Excerpted from GAO-16-165)
Still a "gold rush"?
The Mining Law of 1872 opened up federal land to exploration and extraction of hardrock minerals such as gold, silver, and copper. According to the Department of the Interior, at least 2.5 million ounces of gold were extracted from federal lands in 2014—with an average price of $1,270 per ounce. We found that it took BLM and the Forest Service anywhere from 1 month to over 11 years to approve mine plans, with an average time of 2 years.
(Excerpted from GAO-16-165)
We also found that BLM and the Forest Service faced 13 key challenges that slowed down mine plan approval. These agencies have taken actions to address 2 of these challenges—the low quality of information that operators provided in their mine plans, and the agencies' limited allocation of resources for hardrock mining programs. However, they could do more to alleviate these challenges. We made
several recommendations
, including suggesting that BLM and the Forest Service:
hold pre-plan-submittal meetings with operators to ensure that their applications include all the necessary information, and
establish a fee structure for mine plan processing activities.
Check out our
report
to learn more about hardrock mining on federal lands.
---