The National Park Service Is Turning 100—How Are Its Finances?
Posted on August 25, 2016
The National Park Service is celebrating its centennial on August 25, 2016.  For 100 years, the Park Service has helped the public enjoy its parks and worked to protect its resources. It currently manages 413 parks covering 84 million acres. That number keeps growing—the Service established one of its most recent parks, Stonewall National Monument in New York City, on June 24, 2016, to commemorate LGBT rights. [
8/25/16: This post was edited to clarify when Stonewall National Monument was added
.] So, on the occasion of its 100th birthday (and considering that it hosts more than 275 million visitors a year):
how is the Park Service doing financially
?
Making ends meet
The Park Service's funds come from a combination of annual appropriations, entrance and camping fees, fees from vendors, and donations. But the mix of sources has been changing, with more of the money coming from fees and donations.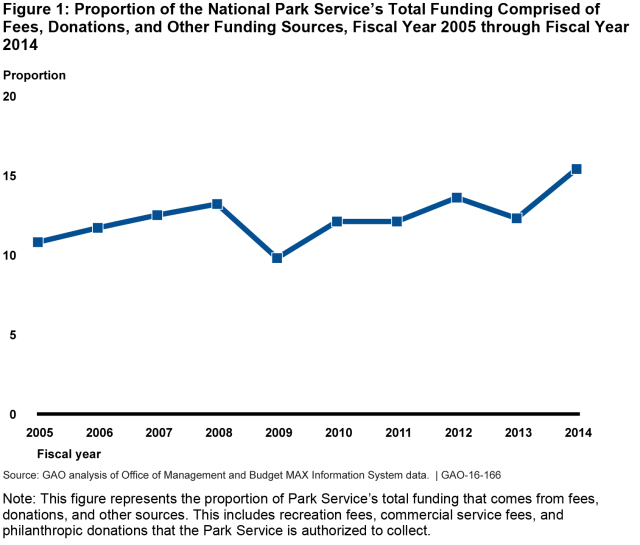 (Excerpted from GAO-16-166)
Regardless of the source, funding hasn't kept up with the times—the Service's budget decreased by 3% between fiscal years 2005-2014 (after adjusting for inflation).
Paying more to play
To help close the funding gap, 111 parks increased their entrance and camping fees in 2014 and 2015. But there are obstacles to increasing park fees further. For example, the Park Service can't charge entrance fees at parks that are in the District of Columbia. And, under current law, it can't raise the price of a lifetime park pass for seniors, which has been $10 since 1993. Instead, the Park Service has increased the fees that vendors pay to operate commercial services in the parks (e.g., hotels and restaurants). Revenue from these fees tripled to $85 million between 2005 and 2014. It may be hard to squeeze out more money—there is limited competition among companies for these contracts in some locations because they attract few visitors or have short tourist seasons.
To make up for the shortfall in their budget, the Park Service has launched a fundraising campaign around its centennial. Together with the National Park Foundation, it created a campaign to raise $250 million by 2018 to support 100 key projects. In addition, it is partnering with the Foundation on its "Find Your Park" campaign to encourage people to visit national parks.
(Excerpted from GAO-16-166)
But, while the Park Service can usually raise funds for large construction projects (such as new visitor centers), it struggles to attract donors to projects like maintaining sewer systems at the parks.
Check out our
report
for more information on the Park Service's fees, agreements, and fundraising efforts.
---