Help for Those Who Help Provide Special Education
Since 1975, the Individuals with Disabilities Education Act has helped school-aged children with disabilities obtain an education. Last fiscal year, it helped nearly 7 million students participate in classes and engage in school-based activities.
But are educators spending more time filling out paperwork for IDEA than they are in the classroom?
As this school year comes to a close, today's WatchBlog looks at efforts to lighten IDEA's administrative workload.
The idea behind IDEA
IDEA provides federal grants to states to help them meet the additional costs of providing special education and related services to students with disabilities. Last fiscal year, this totaled $11.5 billion in federal funds.
But IDEA is more than funding for special education. It requires that states provide free public education to eligible students in the "least restrictive environment"—meaning with other children without disabilities, to the extent appropriate.
IDEA also provides certain safeguards to children and parents, such as written notifications if a child's school wants to change where he or she is placed.
And, for each student, states and schools must document an individualized education plan that outlines the student's academic achievement and functional performance, sets measurable goals for the school year, and describes what the student will need to meet those goals.
Yet all of these safeguards and supports come with a lot of paperwork, not all of which is directly related to improving education outcomes for children.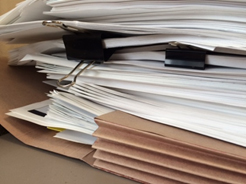 Extra help
To help lighten the load, Congress included a few changes when it passed the 2004 reauthorization of IDEA, including
two pilot programs—one letting states report some information for multiple years rather than annually, the other allowing states to waive certain federal paperwork requirements entirely;
a new requirement that the Department of Education help states by giving them model forms on which to base some of their paperwork; and
allowing states to use more of their federal grant funds to pay for administrative activities that would help reduce the paperwork burden.
An incomplete grade
However, we found that states largely didn't take advantage of these changes. For example, no states applied for the pilot programs, telling us that they didn't see enough benefit and funding to make it worthwhile—especially because the states would then be on the hook to help evaluate the pilots.
In addition, while some states and school districts took advantage of at least one of Education's model forms, states more often used those forms to develop their own models.
But while the 2004 provisions didn't always help, state educators and administrators told us that they had better luck with new IT systems and other changes. For example, in late fall 2014, Education launched a new electronic reporting system, and several state administrators told us that the new system made it easier to submit some of the required data.
For more information on Education and state efforts to reduce the administrative burden of IDEA—and stakeholder views—check out our full report.
---