Our 24/7 Fraud Reporting Line
For nearly 40 years, people have reported suspicions of
fraud, waste, abuse, and mismanagement of federal funds
to
our FraudNet team
. Today's WatchBlog peeks inside FraudNet to see what happens to the calls, emails, and other tips we receive. A new expansion of the fraud line will  occur in July and it will become available 24 hours a day, seven days a week.
A group effort
Our FraudNet team works closely with other law enforcement entities and state and federal agencies. Of the more than 2,000 complaints we received in fiscal year 2015, we referred about half to other agencies. Most referrals are to the relevant agency's Office of the Inspector General, which has its own audit and investigative staff. From there, these referrals may result in criminal, civil, or administrative action. For example, we received an allegation that someone was falsely claiming that their small business was owned by a service-disabled veteran. In this case, the fraudster was looking to get up to $2 million in payments from the Department of Veterans Affairs. Thanks to the tip, as well as follow-up by FraudNet, VA, and the Small Business Administration, the culprit
pleaded guilty to wire fraud,
was sentenced to federal prison, and
had to pay almost $1.5 million in restitution.
As you can imagine, we receive and refer all kinds of allegations. In the figure below, you can see the types of allegations we referred in fiscal year 2015.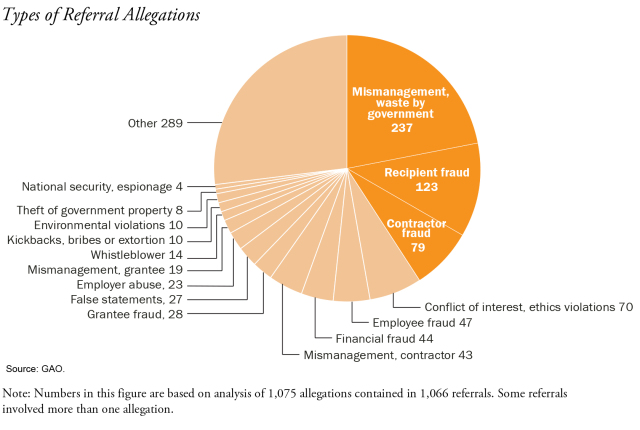 And some of the largest federal departments get the most attention—the top 3 FraudNet referral destinations in the last fiscal year were for the Departments of Defense, Veterans Affairs, and Health and Human Services.
Keeping it confidential
If you don't want to divulge any information about yourself, you can
contact FraudNet and leave an anonymous
tip. But most people who get in touch with us also provide their contact information, even if they request confidentiality. Why would it be helpful to provide your contact information? To show wrongdoing, investigators need the "who, what, when, where, why, and how." If any of that is missing or unclear, our investigators find it useful to follow up with tipsters to get more information. In some cases, this follow-up allows investigators to probe more deeply into allegations, including getting additional information to help identify the potential fraud.
A better system
Beginning in July, you will be able to access a FraudNet Hotline representative 24 hours a day, 7 days a week. [
Correction: A previous version of this blog post indicated the expanded hours had already occurred, but it's still in process. Representatives are currently available during business hours.
] Learn more and report allegations on
our FraudNet site
. You can also call FraudNet toll free at
1-800-424-5454
or email us at
fraudnet@gao.gov
. No matter the method, our trained FraudNet staff will make sure your allegation gets the attention it deserves.
---