Posted on February 25, 2016
As the Academy Awards ceremony approaches, we're looking at how our work has Oscar-worthy appeal. And the nominees are…
Preventing a Sequel to The Big Short
Using comedy and celebrity cameos,
The Big Short
reveals the complexities of the 2008 financial crisis as traders and hedge fund managers (played by Christian Bale, Steve Carrell, and Ryan Gosling) make plans to profit from the impending housing market collapse. But does the federal government have tools in place to prevent another financial crisis? We've been working to answer that question, reporting on
lessons learned
, giving regulators
ways to evaluate the housing finance system
, and finding that some financial reforms called for by the
Dodd-Frank Act
have yet to take effect.
NASA Acquisition Launches a Best Picture Contender
[caption id="attachment_3872" align="alignright" width="204"]
(Excerpted from
GAO-15-320SP
)[/caption]
The Martian
marks perhaps the first time that the drama of federal acquisition programs has been given its due by the Academy. And it's not all fiction, as NASA has already begun developing next-generation spaceflight programs such as the Orion crew vehicle and the Space Launch System launch vehicle, pictured to the right. Will NASA deliver new human spaceflight capabilities in time to rescue Matt Damon, or will cost and schedule overruns doom him to years of eating Martian potatoes and living as a space pirate? Read our
annual assessment of major projects in NASA's portfolio
to see how NASA is doing at managing these projects.
Top Guns
Sicario
, nominated for 3 Oscars, focuses on the efforts of a government task force in escalating the war against drugs at the U.S.-Mexico border. Although we cannot claim to have worked with Emily Blunt, Josh Brolin, or Benicio Del Toro, we have reported on U.S. efforts to combat the trafficking of firearms to Mexico, including high caliber rifles that Mexican government officials stated were the
preferred weapon of drug trafficking organizations
.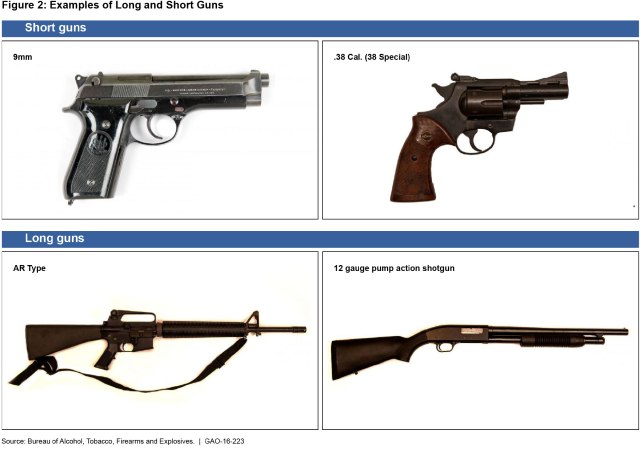 (Excerpted from GAO-16-223)
Women in a Leading Role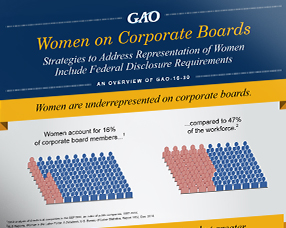 Based in part on the life of a successful female entrepreneur, the movie
Joy
shows that reaching the pinnacle of one's career isn't easy. But have women in general made strides in business—particularly on corporate boards? We found that
it will take decades
for corporate boards to have equal numbers of men and women. Few women in the traditional pipeline to board service is one factor affecting women's representation on corporate boards.
---