Federal Grants and Other Assistance
Posted on January 14, 2016
Federal grants pay for all manner of things, including highways, health care, and education. Today's WatchBlog follows
the money trail of federal grants
, discusses ways to improve grant management, and explores some ways the federal government can help states and localities without cutting a check.
$600 Billion
In fiscal year 2015, federal government spending on grants was estimated at more than $600 billion. Most grant spending—almost three-quarters—goes from numerous federal agencies to even more numerous state and local governments as well as nonprofit organizations.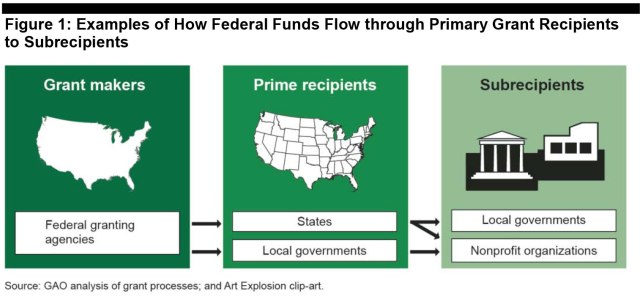 (Excerpted from GAO-13-392)
Getting the money to the right people for the right things
We followed the federal funding trail for grants and found some problems. For example, there are
no government-wide standards
for the people reviewing grant applications—and deciding who receives what piece of the pie. We recommended ways to
improve government-wide grant management and training
, and we're currently monitoring whether these recommendations are being implemented. In addition, while many grant programs allow organizations to use some of their grant money for administrative costs, like leasing office space, we found that different programs
define these costs differently
. As a result, comparing administrative costs across programs may not be the best way to make policy decisions about federal grant expenses. Finally, the federal government's use of grants has grown significantly in the last three decades. Consolidating some of these could improve government efficiency and effectiveness. Yet, federal agencies lack clear standards for how to streamline their grant programs. We
recommended developing guidance
that would help agencies through the consolidation process.
Some problems go beyond funding
There are some policy challenges that take more than grant money to fix. Take, for example,
Detroit and other cities in fiscal distress
. In those cases, the cities struggled to manage their federal grants as their staff left or were laid off. We found that the federal government can help states via nonfinancial technical assistance, such as by helping states
better manage rental housing assistance
, so that programs are more efficient and serve more people. Check out our work on
federal grants management
for additional insight into this complex web of federal funding to state and local governments.
---
Questions on the content of this post? Contact Michelle Sager at SagerM@gao.gov.
Comments on GAO's WatchBlog? Contact blog@gao.gov.