Veterinarians: Front-line Responders to Animal Disease Outbreaks
The federal government plays an important role in planning the nation's response to outbreaks of animal diseases that could significantly impact our food and agriculture sectors. If a contagious animal disease were to enter the United States, the nation would need to quickly and effectively identify, control, contain, and eradicate the disease. Today's WatchBlog explores the role of the
federal government's veterinarian workforce
in keeping our nation safe from animal disease outbreaks.
Threats to animal health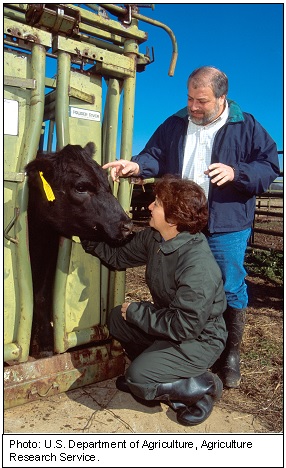 You may recall events such as outbreaks of mad cow disease and foot and mouth disease in the United Kingdom and other countries. Foot and mouth disease, in particular, is a highly contagious viral disease that can quickly spread through livestock. In 2001, an outbreak of foot and mouth disease in the U.K. resulted in the slaughter of more than 4 million animals, and more than $5 billion in losses to the U.K.'s food and agriculture sectors. While the United States has been free from foot and mouth disease since 1929, the disease remains present in more than half of all nations. According to the U.S. Department of Agriculture (USDA), just one contaminated animal product coming into contact with one susceptible U.S. animal could trigger a nationwide disease outbreak. Moreover, a White House council estimated that an act of biological terrorism that spread foot and mouth disease among several states would affect almost half the nation's beef, dairy, and swine, and cost the nation billions of dollars.
How many veterinarians do you need in an emergency?
The USDA is the lead agency for emergency response to significant incidents threatening the health of animals. Consequently, the department is responsible for planning in such national emergencies, including for any needed veterinary expertise. However,
we found
that the USDA has not developed reliable estimates of the number of veterinarians needed for emergency response to an animal disease outbreak. In one study, USDA worked with other federal agencies to estimate the number of needed veterinarians, but the study based the number on a model that the department did not verify or validate. Without reliable estimates, the USDA may not have a sufficient number of veterinarians to respond to the most serious animal disease outbreaks. In such an emergency, the USDA could augment their veterinarian workforce through various arrangements, such as by using
a volunteer force of private veterinarians,
Department of Defense staff, or
agreements with other nations, such as Canada and the United Kingdom, to provide veterinarians.
However, the USDA has not identified the number of veterinarians these arrangements could make available. Moreover, in one exercise, about three-quarters of the volunteers did not respond to a request for immediate activation. We made a recommendation to the USDA to help improve its emergency veterinary workforce planning. You can check out this and all of our recommendations in our
recommendations database
.
---