GAO's Bid Protest Process and Legal Resources
When you think of GAO, you probably think of audits. You may be surprised to learn that we also provide legal support and services to the government that help ensure that your taxpayer dollars are being spent fairly and within the bounds of federal law. Today's WatchBlog highlights some of the work of our Office of General Counsel, and directs you to our
updated legal pages
for additional resources, guidance, and training.
Bid Protests
Federal contracts for goods and services generally go through a rigorous process to ensure that they are awarded fairly. However, when companies object to how a federal contract was awarded, they can file a protest with the federal government. GAO adjudicates those cases. For more than 80 years, our Office of General Counsel has provided an objective, independent, and impartial forum for resolving contract disputes, creating a body of law on which Congress, the courts, agencies, and the public rely. Last fiscal year alone, our office heard and decided more than 2,000 bid protest cases. Want to know who filed a protest, and what the results were? You can search the
docket
to check the status of protests that have been filed in the past year, and search our
published decisions
for the results. To learn more about our bid protest process and how it works, listen to our podcast with Ralph White, GAO's Managing Associate General Counsel for Procurement Law:
Appropriations Law and the Red Book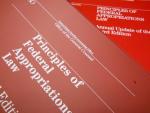 One of our most used publications is our Principles of Federal Appropriations Law, otherwise known as the Red Book. This multi-volume treatise on federal fiscal law is an essential resource for anyone researching matters of appropriations law, and is used daily throughout the federal government. When there is a question about how federal agencies can use their appropriated federal funds, Congress and federal agencies can request that GAO provide appropriations law opinion or decision. You can search all of our published appropriations law decisions by keyword, date, agency, and other key criteria on our website. We also offer classes to federal employees on appropriations law, provide informal technical assistance, and have a variety of appropriations-related resources publicly available. Want More? Our recently updated bid protest and legal decision pages have additional resources, and straightforward, easy-to-understand explanations of our legal work. Check it out to search our legal resources, learn how to file a bid protest, and find guidance, training, answers to frequently asked questions, and more.
---