Traveling Quickly but Safely This Summer
Curious how to pack for your next trip, or how to get into one of those
TSA Pre ✔TM
 lines at the airport? For
National Travel and Tourism Week
, today's WatchBlog highlights our recent reports on Transportation Security Administration (TSA) security efforts that could affect your airport experience.
More Passengers Getting Expedited Screening at Airports
We recently testified on
2 programs that may speed your way through airport screening:
TSA Pre✔TM allows passengers who are designated as low-risk to enjoy expedited screening—specifically, not having to remove their shoes, light outerwear, jackets, or belts, or not having to remove liquids, gels, or laptops from their carry-on bags for X-ray screening.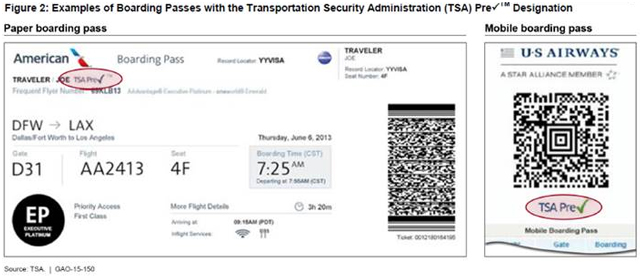 (Excerpted from GAO-15-150)
TSA's Managed Inclusion process randomly selects passengers who are not otherwise identified as high- or low-risk before their arrival at the airport to receive expedited screening using added layers of security, such as canine teams, behavioral detection officers, and explosives trace detection devices.
As shown in this snapshot of a 1-week period in 2015,
almost half of all airplane passengers experienced expedited screening
at U.S. airports.
 (Excerpted from GAO-15-465T)
We have found problems with TSA's evaluation of some expedited screening programs. TSA has evaluated the security effectiveness of some parts of the Managed Inclusion process, and plans to evaluate the system as a whole. When we have reviewed its past evaluations, we have found that
To learn more, listen to our podcast on expedited passenger screening:
To Bring or Not to Bring the Pocketknife 
Wondering how TSA determines what you can or can't bring on the plane?
 Below are the general categories that comprise TSA's
current prohibited items list (PIL)
:
Sharp objects
Sporting goods
Guns and firearms
Martial arts and self-defense items
Tools
Explosive materials
Flammable items
Disabling chemicals and other dangerous items
Other items such as gel-type candles, flammable liquid, gel, or aerosol
TSA has modified this list several times—for example, in 2005, when the agency began allowing passengers to carry small scissors and tools onto planes. In 2013, TSA announced that it would begin allowing small knives and certain sporting goods on board. According to TSA, allowing these items would help screening officers focus on items considered to pose a high threat, such as improvised explosive devices. TSA withdrew this decision after obtaining more input from aviation stakeholder groups, some of which strongly opposed the change. We recommended in February that
TSA ensure that it consults with key stakeholders before making future decisions to change the PIL
.
We also reported that, in deciding whether to allow small knives on board,
TSA did not fully demonstrate that the increased risk of allowing them on board would be offset by freeing up screening officers to focus on higher-risk items. This echoed our 2007 report, in which we also
recommended that TSA strengthen its evaluation methods
for testing the effects of modifying the PIL. Learn more by listening to our podcast on TSA's prohibited items list:
---