The First Watchdog in Chief, John R. McCarl
Posted on February 05, 2015
GAO is headed by the U.S. Comptroller General (CG), and while most school children learn the names of past presidents, here at GAO, we recall the tenures of past CGs. Today's WatchBlog looks back to our first Comptroller General, John R. McCarl, who set the course for the GAO of today.
Life before GAO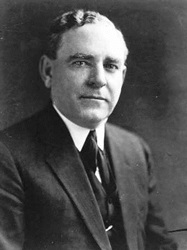 John Raymond McCarl was born November 27, 1879 in Iowa. Like many of our CGs, McCarl was a lawyer. He received his law degree from the University of Nebraska in 1903, and spent more than a decade in private practice. In 1914, McCarl moved to Washington, DC, where he worked first for his home state U.S. Senator, George W. Norris, then for Senator Simeon D. Fess of Ohio.
On June 27, 1921, President Warren G. Harding nominated McCarl to be the first U.S. Comptroller General. Two days later, the Senate confirmed the nomination.
McCarl's Mark on the Agency
McCarl helped set the structure of GAO as we know it. On his first day at the new agency, he established 6 audit divisions that mirrored GAO's predecessor agency: the Office of the Comptroller of the Treasury and its 6 auditing offices. Throughout his tenure, he reorganized the agency multiple times to align it along functional lines, similar to how we currently have teams organized by issue area and other divisions.
Under McCarl, the number of GAO staff more than doubled. During his 15-year term from 1921 to 1936, GAO grew from 1,700 employees to 4,400—about 1,400 more than today.
Most importantly, McCarl ensured GAO's independence. In the first year of his term, he testified that GAO was
…an independent establishment, entirely disconnected from all executive departments, and, as I conceive it, accountable to the Congress for what it does.
Praise for and from a "No-Man"
McCarl retired at the end of his 15-year term on June 30, 1936. On the occasion, the Saturday Evening Post praised McCarl for being a "no-man" on excessive public spending. The St. Louis Post-Dispatch also praised him for this trait: "Among the welter of Washington's yes-men, he was a forthright, solitary and heartening no-man."
In his retirement letter, he told GAO employees "don't give up—don't even be downhearted—just keep fighting on for law observance and honesty in government." And we have! In his final year as CG, GAO sent more than 200 reports to Congress; by contrast, in 2014, we issued nearly 700 reports, and identified more than $54 billion in savings.
---