United States Partners with African Countries to Counter Terrorist Threats
Posted on September 26, 2014
From the 1998 bombings of U.S. embassies in East Africa, to recent al Qaeda and Boko Haram attacks in Northwest Africa, events have suggested that both regions are vulnerable to terrorism and violent extremism. The United States provides training and equipment to military and law enforcement agencies in partner countries, and works with local populations at risk of becoming involved in violent radicalization. We issued two reports this year on U.S. regional programs in
East Africa
and
Northwest Africa
. These programs are helping improve the ability of African countries to counter terrorist groups, but both need stronger program management from the State Department to meet their goals and protect taxpayer dollars. Hear our
podcast
with Charles Michael Johnson, Jr., a director in GAO's International Affairs and Trade team, who led this work:
East Africa
The
Partnership for Regional East Africa Counterterrorism (PREACT)
focuses on building the capacity to combat terrorism in Burundi, Comoros, Djibouti, Ethiopia, Kenya, Rwanda, Seychelles, Somalia, South Sudan, Sudan, Tanzania, and Uganda. These countries have faced terrorist attacks from al Qaeda and al Shabaab, as shown below.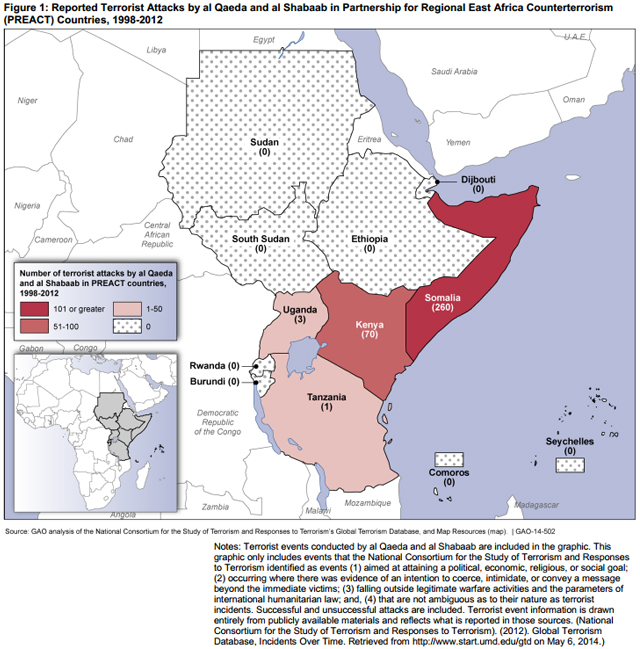 Excerpted from GAO-14-502
We
reported
that the United States has allocated nearly $100 million for the PREACT program. These funds are part of nearly $1 billion the United States has allocated since 2009, to assist partner countries in addressing terrorist threats in East Africa. PREACT funds activities such as:
investigative training for Somali police units;
providing communications equipment to the Ethiopian military; and
computer literacy training for teachers in Kenya working with youth at risk for radicalization.
Northwest Africa
The
Trans-Sahara Counterterrorism Partnership (TSCTP)
, established in 2005, focuses on the northwest African countries of Algeria, Burkina Faso, Cameroon, Chad, Mali, Mauritania, Morocco, Niger, Nigeria, Senegal, and Tunisia. Since 2009, groups including al Qaeda in the Islamic Magreb and Boko Haram, among others, have conducted terrorist attacks in the region.
Excerpted from GAO-14-518
TSCTP-funded activities include:
training and equipping partner nation counterterrorism units;
providing vocational training for at-risk youth; and
encouraging youth to reject violent extremism through public diplomacy.
Areas for Improvement:
In our reports, we found that the Department of State and U.S. Agency for International Development lacked some information about program activities and the status of program funds needed to make decisions. For example, because the managing bureau at State was unaware of over $3 million in federal funding for PREACT, it missed the opportunity to use those funds before their appropriation expired. We made several recommendations in these reports, including steps to improve program management to ensure that the millions of taxpayer dollars spent on these programs are being appropriately utilized. For more information on U.S. efforts to combat terrorism, as well as our work on counternarcotics, and security assistance to partner countries, see our key issue page on
Countering Overseas Threats
.
---
Questions on the content of this post? Contact Charles Michael Johnson, Jr., at johnsoncm@gao.gov.
Comments on GAO's WatchBlog? Contact blog@gao.gov.