What We Found
Congress should consider establishing objectives for the federal role in housing finance and a plan for ending the Fannie Mae and Freddie Mac conservatorships. Housing agencies should address oversight weaknesses.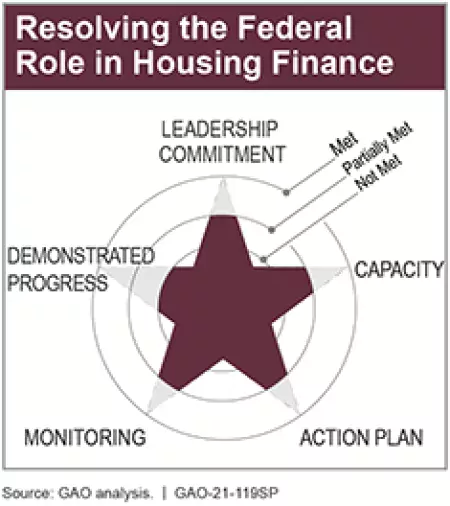 Our ratings for the five criteria remain unchanged from our 2019 High-Risk Report. Actions are needed by Congress and housing agencies to address this high-risk area.
Leadership commitment: partially met. The administration and housing and regulatory agencies have taken a number of actions that demonstrate leadership commitment. For example, in March 2019, the President directed the Secretaries of the Treasury and Housing and Urban Development (HUD) to develop housing finance reform plans, which were issued in September 2019.
Additionally, in December 2020, the Federal Housing Finance Agency (FHFA) finalized a rule establishing a new regulatory capital framework for the Federal National Mortgage Association (Fannie Mae) and Federal Home Loan Mortgage Corporation (Freddie Mac)—collectively, the enterprises—that FHFA views as a critical step toward ending the enterprise conservatorships.
Statutory changes will be needed to resolve the federal role in housing finance. Since our 2019 High-Risk Report, Congress has held hearings on housing finance reform, but has not enacted legislation establishing objectives for the future federal role in housing finance or a transition plan that enables the enterprises to exit conservatorship.
Also, some prior legislative proposals have not had a system-wide focus. For example, some proposals address the enterprises but do not consider other entities such as the Federal Housing Administration (FHA) and the Government National Mortgage Association (Ginnie Mae).
Capacity: partially met. Under FHFA's conservatorship, the enterprises—which guarantee about $6 trillion in mortgage-backed securities—generally have operated profitably since 2012. FHFA has mitigated some of their risks by directing them to take actions that have transferred significant amounts of credit risk to the private market. Overall, the enterprises also have increased their capital reserves following modifications to their conservatorship agreements that allow the two enterprises to retain earnings up to certain thresholds.
As of September 30, 2020, the enterprises collectively had about $35 billion in capital reserves and about $6.3 trillion in assets. As a result, the ratio of capital to assets (unadjusted for asset risk) was less than 0.6 percent, well below the capital ratios generally required of other federally regulated financial institutions. Pandemic-related mortgage losses and the cost of implementing borrower and renter protections in the CARES Act (e.g., mortgage forbearances) could slow the enterprises' progress in building capital reserves. Additionally, FHFA lacks statutory authority to examine nonbank mortgage servicers (nondepository institutions that collect loan payments, among other functions) and other third parties that do business with and pose potential risks to the enterprises.
FHA and Ginnie Mae also face capacity challenges. FHA's Mutual Mortgage Insurance Fund has met its statutory minimum capital requirement every year since fiscal year 2014, but the requirement is not based on a specified risk threshold, such as the economic conditions the fund would be expected to withstand. Further, mortgage defaults and forbearances stemming from the pandemic may adversely affect the fund's financial condition.
Growth in Ginnie Mae's guaranteed portfolio and a shift toward nonbank securities issuers have increased the agency's potential exposure to loss. But Ginnie Mae has not analyzed the extent to which its guaranty fee for single-family mortgage-backed securities is sufficient to cover potential losses under different economic scenarios.
Ginnie Mae also relies heavily on contractors for many functions, but has not determined whether it has an optimal mix of contractors and in-house staff. Congress has not reformed Ginnie Mae's oversight structure to address its increasing risks or required the agency to study and report on its fee and staffing issues.
Action plan: partially met. Although fundamental changes to the housing finance system have yet to be enacted, federal agencies have taken some planning steps to facilitate the transition to a future federal role. For example, the aforementioned September 2019 Department of the Treasury (Treasury) and HUD plans contain numerous recommendations for administrative and legislative reforms to the housing finance system.
Treasury's plan seeks to define a limited federal role, enhance taxpayer protections against future bailouts, and promote competition in the housing finance system. HUD's plan aims to refocus FHA on its core mission, protect taxpayers, provide FHA and Ginnie Mae the tools to manage risk, and provide liquidity to the housing finance system.
If Congress enacts changes to the housing finance system, relevant federal agencies will need to develop action plans to effectively implement the changes.
Monitoring: partially met. Federal agencies have taken some steps to provide monitoring tools that may aid the assessment of changes to the housing finance system. For example, FHFA and the Consumer Financial Protection Bureau have an ongoing joint initiative—the National Mortgage Database Program—that could be useful for examining the effect of mortgage market reforms.
The joint initiative features a representative database of loan-level information on the terms and performance of mortgages, as well as characteristics of the associated borrowers and properties. Other program components include quarterly and annual surveys of mortgage borrowers about their experiences in obtaining a mortgage and maintaining a mortgage under financial stress.
However, FHFA's Office of Inspector General has identified a range of shortcomings in FHFA's supervision of the enterprises. These include deficiencies in examination guidance and execution; the size, training, and qualifications of the examiner workforce; communication of supervisory findings; and quality control.
Additionally, FHA's monitoring of reverse mortgages (a type of loan against home equity) and sales of defaulted loans has weaknesses. FHA has not established comprehensive performance indicators for reverse mortgages—a loan portfolio that has negatively affected the Mutual Mortgage Insurance Fund's financial performance—or for defaulted loans sold to private purchasers. FHA also has not comprehensively monitored loan outcomes for reverse mortgages.
Demonstrated progress: not met. Overall progress on resolving the federal role in housing finance will be difficult to achieve until Congress provides further direction by enacting changes to the housing finance system. Assessing progress against specific goals is not yet possible because Congress has not provided a blueprint for the future federal role in housing finance or the future structure of the enterprises. Prolonging the enterprise conservatorships could create uncertainties for market participants and hinder progress toward the development of the broader mortgage securities market.
The federal role in housing finance expanded during the 2007–2009 financial crisis and remains large. The federal government currently supports about two-thirds of the mortgage market. Since 2013, we have designated resolving the federal role in housing finance as a high-risk area because of the government's large fiscal exposure and because objectives for the future federal role have not been established.
FHFA placed the enterprises into conservatorships in 2008 due to concern that their deteriorating financial condition threatened economic stability. As of September 30, 2020, the enterprises had received $191.4 billion in capital support from Treasury and paid dividends to Treasury exceeding that amount. If the enterprises were to incur major additional losses, they would draw required amounts from their remaining $254.1 billion in Treasury commitments.
The federal government also supports mortgages through insurance and guarantee programs. FHA has an insured portfolio of single-family mortgages that exceeds $1.2 trillion, and Ginnie Mae guarantees the performance of more than $2 trillion in securities backed by mortgages with FHA or other federal agency support.
The Coronavirus Disease 2019 pandemic has led to missed mortgage and rent payments that have strained the housing finance system and heightened fiscal risks to the federal government.
Housing agencies should implement our previous recommendations designed to help improve oversight of mortgage-related risks, consistent with federal internal control standards and Office of Management and Budget guidance for managing federal credit programs. In particular,
Ginnie Mae should (1) evaluate the extent to which its guaranty fee provides sufficient reserves to cover potential losses under different economic scenarios, (2) analyze the costs of using contractors for its operations and develop a plan to determine the optimal mix of contractor or in-house staff, and (3) assess its contract administration options to determine the most efficient and effective use of funds.
FHA should (1) develop performance indicators and analytic tools to better monitor outcomes for its reverse mortgage portfolio, and (2) develop objectives and measurable targets for sales of defaulted loans.
In the years since we added this area to the High-Risk List, we have made numerous recommendations related to this high-risk area, 25 of which were made since the last high-risk update in March 2019. As of December 2020, 19 recommendations remain open.
Congressional Actions Needed
Congressional actions we recommended from 2016 to 2019 will be needed to help resolve the federal role in housing finance and manage federal fiscal exposure to the mortgage market.
Specifically, Congress should consider legislation that
establishes objectives for the future federal role in housing finance, including the structure of the enterprises;
provides a transition plan to a reformed system that enables the enterprises to exit federal conservatorship; and
considers all relevant federal entities, including FHA and Ginnie Mae.
Congress also should consider
reforming Ginnie Mae's oversight structure to help address its increasing risks;
requiring Ginnie Mae to evaluate and report on the adequacy of its current guaranty fee, its reliance on contractors and potential use of fee revenue to hire contractor and in-house staff, and how it would use greater flexibilities to set the compensation of its in-house staff;
granting FHFA explicit authority to examine nonbank servicers and other third parties that do business with the enterprises; and
specifying the economic conditions that FHA's Mutual Mortgage Insurance Fund would be expected to withstand without substantial risk of drawing on supplemental funds, and require FHA to specify and comply with a capital ratio consistent with these conditions.