Why Health Care Is Harder to Access in Rural America
More than 60 million Americans—about one-fifth of the U.S. population—live in rural areas. On average, rural residents are older and generally have worse health conditions than urban residents. But while they may require more medical attention and care, they also might have more limited access to health care.
Today's WatchBlog post looks at both changes and challenges in rural health care access, as highlighted in our latest Health Care Capsule.
Hospital closures and higher risks
Having a local hospital or access to care is critical in an emergency situation where minutes can make a big difference. But we've found that many rural residents are seeing their local hospital close. More than 100 (or 4% of) rural hospitals closed from 2013 through 2020. As a result, residents had to travel about 20 miles farther for common services like inpatient care, and 40 miles farther for less common services, such as alcohol or drug misuse treatment.
We also found, as you might expect, that rural areas without hospitals also generally had fewer health care providers overall compared to those without closures.
People had to travel farther to get health care services after rural hospitals closed in their areas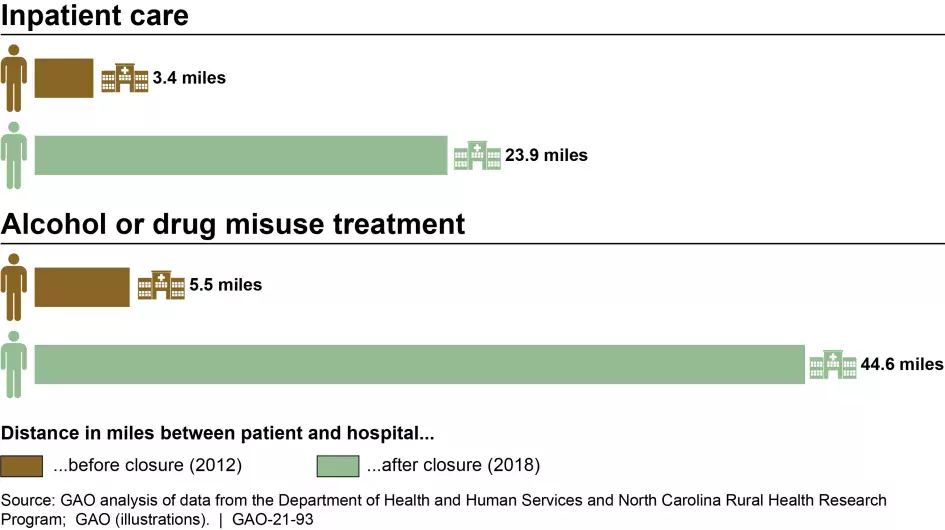 In addition to losing their hospitals, rural residents might also face additional health risks.
Often rural residents lack insurance coverage, which is associated with less access to care and increased risk of poor health outcomes.
Many rural residents may turn to telehealth services—health care services delivered via phone or video—when care isn't available locally. Telehealth can be an option to address limited provider availability in rural areas. However, we found that, as of 2019, at least 17% of people living in rural areas lacked broadband internet access, compared to 1% of people in urban areas.
Certain populations are disproportionately affected
While rural communities face access and quality of care issues—we've found that some populations face unique challenges. Pregnant people, American Indians and Alaska Natives, and veterans may struggle to access the care they need in rural areas.
For example, we found that more than half of rural counties lacked hospital-based obstetric services in 2018. By 2030, the anticipated supply of OB/GYNs is expected to meet only about 50% of the demand in rural areas. In rural counties, the loss of hospital-based obstetric care is associated with increases in pre-term births and distance traveled for obstetric care, which may contribute to poor maternal and adverse infant health outcomes. These poor outcomes have been more prevalent in rural areas and for non-White racial and ethnic groups, particularly for Black and American Indian or Alaska Native populations.
About one third of veterans enrolled in the Veterans Health Administration (VHA) live in rural areas. However, in our review of VHA data, we found that rural veterans use intensive mental health care services, such as residential care or intensive case management, less than urban veterans, raising questions about access.
VHA's Office of Rural Health has a mission to improve the health and well-being of rural veterans. In FY 2022, the office allocated approximately $245 million for 35 separate initiatives, such as transportation for veterans to VA facilities. However, we found that the office does not communicate all of its funding opportunities across VA. As a result, VHA may be missing chances to fund research at VA facilities serving rural veterans with unique access issues.
What should the federal government do?
There are a number of federal agencies involved with ensuring rural communities have access to health care. But more action by these entities is needed. In our work, we've made important recommendations that would improve the information available to federal agencies and help them understand and address the health care needs of rural populations. Considering health care challenges faced by rural populations and the availability of financial incentives is also important when developing programs for rural populations. Learn more about these recommendations and policy options by reading our new Health Care Capsule.
---
The WatchBlog was recently named No. 20 on FeedSpot's list of the "Top 50 U.S. Federal Government Blogs and Websites." Blogs and websites were ranked based on their traffic, social media followers, and freshness.