GAO's Professional Development Program - Watchdogs in Training
Posted on August 13, 2019
New entry-level staff at GAO spend their first 2 years in the Professional Development Program, which provides a wealth of on-the-job experience, classroom trainings, and career development opportunities.
In today's WatchBlog, we take a glimpse at what it's like for newcomers to earn their stripes.
On-the-job experience
GAO analysts spend most of their time working with a team to plan and conduct reviews of government programs or agency operations. Typical day-to-day work includes analyzing agency data, meeting with agency officials, briefing congressional staff, or helping to draft reports and testimonies.
Congressional hearing with a GAO director
While in the PDP, most analysts rotate through at least 3 of GAO's mission teams to experience all phases of an evaluation and gain exposure to different policy areas, such as national security, health care, and the environment. However, some analysts with specialized expertise—such as accountants or IT professionals—are hired directly to one mission team and work on different projects within that team.
One PDP analyst told us, "During my first audit, I had the opportunity to brief our congressional requesters on the findings that resulted from our review of the U.S. Postal Service. It was a great feeling to be so engaged in the congressional process and influence policy based on the solid research standards of GAO."
In addition to our analysts, staff from a variety of backgrounds—including business, IT, and accounting—work in roles that support our mission, such as procurement specialist, management analyst, and security specialist. New hires in these positions are assigned to one of our operational units. While in the PDP, staff receive a range of targeted job experiences and mentorship opportunities that help develop their skills and complete 3 developmental projects based on their interests and specific unit needs.
Training
All PDP employees also receive extensive classroom training to enhance their knowledge and skills in areas applicable to performing GAO work. Classes cover a range of topics such as project management, data collection, and writing.
GAO orientation course
PDP employees told us, "The amount of training I received as a new employee made me feel that GAO was truly invested in helping me succeed," and, "Recently, the agency has begun developing more classes that serve its operations staff. Because of what I learned in these courses, I feel more prepared to handle different types of tasks."
Career development
The PDP also has several other initiatives such as a newsletter, information sharing committee, and social committee. These initiatives provide staff with a sense of community as they learn about the agency, as well as additional opportunities to collaborate across GAO.
PDP event with the GAO Executive Committee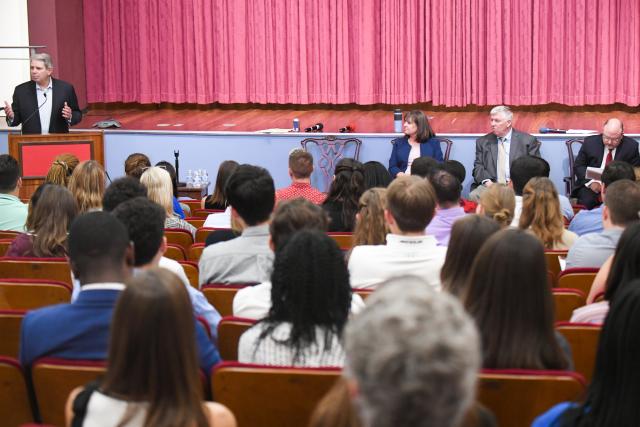 For example, one PDP employee said: "I helped to coordinate a PDP panel discussion on recommendations, which is how GAO measures its performance. Not only did it expose new staff to an important aspect of GAO's work, but it also allowed me to interact with senior executives that I wouldn't otherwise have met on my day-to-day job."
Perks of being at one of the best places to work in the federal government
PDP staff also have a chance to take advantage of a few of the perks that have made GAO one of the best places to work. Some of these perks include creating a flexible schedule, taking advantage of the student loan repayment program, and getting to network with international auditors in GAO's International Fellows Program. GAO headquarters also has a child care center that staff can enroll their children in and an onsite fitness center staff can join, among other amenities.
GAO headquarters' onsite fitness center and child care center
One PDP analyst told us "I love working for an organization that strives to make its employees happy. I've created a work schedule that allows me to start and end my schedule earlier, and I feel much more energized and productive because of it."
Learn more about our work, benefits, and core values. And for those interested in joining our team, set an alert on USAJobs to hear about future openings!
---
• Questions on the content of this post? Contact pdpprogram@gao.gov.
• Comments on GAO's WatchBlog? Contact blog@gao.gov.