What You Should Know About Event Ticketing
Buying tickets to see your favorite band can be a frustrating experience. Tickets often sell out quickly, only to appear soon after on resale sites at high prices. And when you buy your tickets, you may be hit with high ticketing fees that are only revealed right before you click that "pay" button. Today's WatchBlog explores our
recent report
on event ticket sales, including key issues facing consumers. Listen to our podcast and read on for more.
(I can't get no) concert tickets
Tickets to popular events—a Springsteen concert, Hamilton on Broadway, the Super Bowl—sell out quickly for a simple reason: demand for those tickets at their asking price exceeds supply. Concert ticket prices are set by artists and their managers, agents, and promoters, who may underprice tickets so they are more affordable to fans, because they want a sold-out house, or because they fear high ticket prices will hurt their reputations. But, when prices are low, brokers have an incentive to buy tickets and resell them for profit. Professional brokers have technology and other resources that give them a competitive advantage over everyday consumers in buying tickets at their face-value price. For example, some brokers use bots—automated software that can quickly purchase many tickets—or employ staff to buy tickets right when they are released.
Fees may make a surprise appearance
Ticketing fees can add substantially to the price of a ticket. On the primary market—where tickets are first sold—we found that ticketing companies charged total fees averaging 27% of the ticket's face value (in other words, with fees a $100 ticket would cost $127).  Secondary market (resale) ticketing companies charged even more, with tickets fees averaging 31%. And ticketing companies were not always upfront or transparent about these fees.  For example, the largest primary market ticketing company usually revealed its fees only near the very end of the purchase process. We also found that a subset of ticket resale websites known as "white label" used marketing practices that might confuse consumers—for example, by using a URL or website design that implied it was a venue's official website.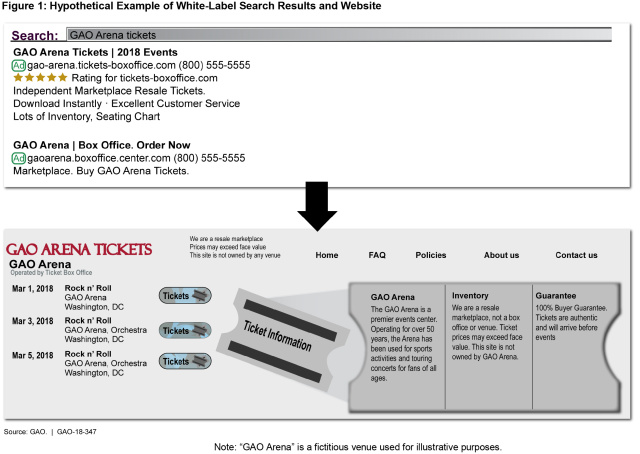 Tips for fans
To be a savvy ticket buyer, here are some things to keep in mind:
Presales: For some of the hottest shows, 10–30% of tickets might be first sold through presales. Check if your favorite artist has a fan club or if you have a credit card from a company sponsoring a presale.
Comparison shop:  Don't assume the first place you look will have the cheapest tickets. In particular, we found some white-label resale sites selling high-priced tickets when tickets at face value were still available elsewhere.  Don't confuse these white-label sites with the venue's official site.
Buyer beware:  Be wary of buying tickets on the street or through online classified advertisements.  If you do buy on the secondary market, look for ticket resale companies that guarantee a refund for fake tickets.
To learn more about online ticket sales, check out
our full report
.
---