What Are You Doing this Pi Day?
Hanging out with us on 3/14? Sweet! How do you like to eat your pie? Crust-first? With whipped cream? As you enjoy your slice of pie on Pi Day, join us as we take a look at some of our latest pie charts on federal programs and spending.
Pie as an award
We
recently examined
how much money U.S. agencies pledged for democracy assistance in FY12-16 and how they obligated the funds. This pie chart illustrates the type and number of awards from USAID.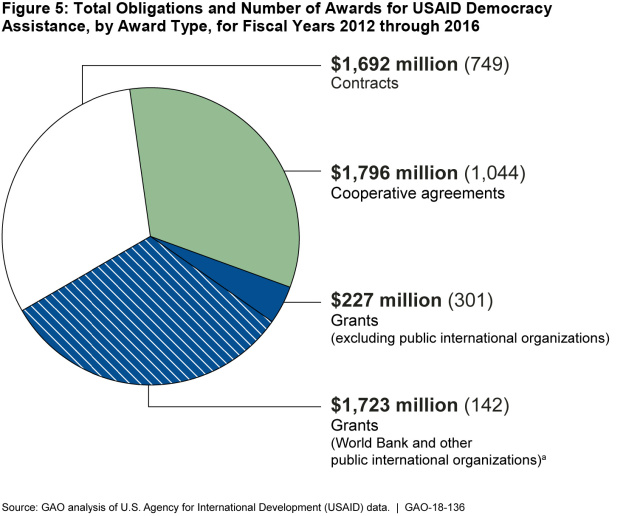 Global gourmet?
This pie chart from
our report
on government procurement shows that when it comes to procuring DHS uniforms, it's an international "recipe."
Divvying up the pie
The pie charts in our
America's Fiscal Future
collection show some of the largest categories of government spending and revenue and depict the scale of action that would need to be taken to close the fiscal gap—the difference between program spending and revenue. (Sample our interactive pie charts on our
webpage
.)
Comparing one pie to another
DOD civilian employees who get hurt on the job are covered under the Federal Employees' Compensation Act program, which works to return injured employees to work and provides compensation for work-related disabilities. These pie charts
in our report
show how DOD's cash payments to beneficiaries compared to other federal agencies in 2015.
Banking may not be as easy as...
Banks are increasingly closing their branches along the U.S./Mexico border—due in part to increased money laundering risks and because of banks' efforts to comply with federal anti-money laundering requirements. The pie charts in
our report
on banking regulations show the magnitude of bank closures in 3 border communities—which may lead to decreased services for residents and businesses.
A closer look at that slice of pie
The Affordable Care Act helps subsidize health-care coverage for qualifying applicants. But the pie chart in our report on enrollments in this subsidy program shows that a small percentage—
about 1 percent
—were potentially improper or fraudulent in 2015. What makes up that 1 percent?
---