Increasing U.S. Military Posture in Europe
Posted on February 06, 2018
Russia annexed Crimea in 2014—and the Department of Defense has since requested over $4.5 billion to increase U.S. military presence in Europe. These funds were initially intended to reassure European allies, but DOD has also started to make plans to deter potential future aggression from Russia. So, what do these changes look like? And can DOD afford to make them? Today's WatchBlog explores what we found in
our report
on the European Reassurance Initiative (now called the European Deterrence Initiative).
More boots on the ground
DOD is changing its posture in Europe—that is, it is making long-term military commitments in Europe that will have global and fiscal impacts over many years. Recent changes to U.S. military presence have included the deployment of new ground, air, and maritime units; investments in roads, railroads, and bridges; and helping European allies with training and military exercises.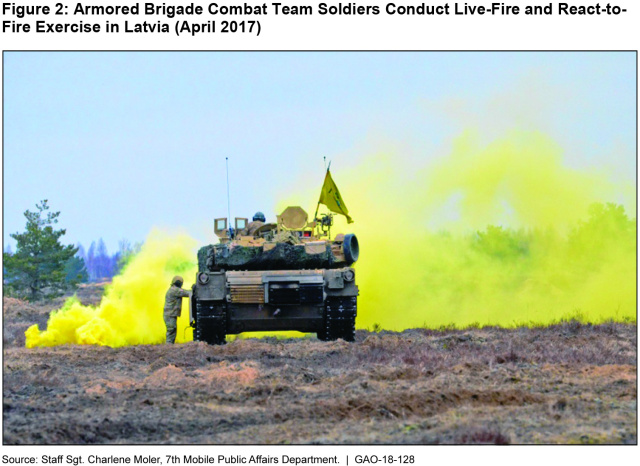 DOD has also decided to store significant quantities of equipment in European warehouses (including some of the Army's most modern tanks), and establish new bases. Many of these changes are designed to ensure that the Army could quickly deploy ground forces in the event of an armed conflict.
The bottom line
Typically, these types of military activities are reviewed and funded through DOD's regular budget process. However, DOD requested funds for these European activities as part of its short-term funding for wartime operations (such as those in Iraq and Afghanistan)—rather than from its regular defense budget. 2 major reasons why this raises concerns:
Wartime funds are only approved for the year in which they will be spent. DOD did not plan for the long-term costs of maintaining the new facilities and equipment—and didn't submit an estimate of future funding requirements to Congress.  So, neither DOD nor Congress knows how much these changes will cost in the long term.
Since DOD reviewed and prioritized these changes in isolation from the rest of its budget, DOD's decision makers are uncertain about where European activities rank on DOD's list of worldwide priorities.
We
recommended
that DOD change the way it prioritizes European activities, estimate long-term costs, and communicate long-term funding plans to Congress. Learn more in
our report
.
---