Posted on September 05, 2017
With back to school season in full swing, we thought we'd take a look at how the nation's schools are measuring up. We've issued a number of reports recently on some serious challenges that confront students—particularly students facing suspension in the District of Columbia, children attending Indian schools, and students with certain disabilities. Today's WatchBlog explores.
High suspension rates in the nation's capital
In our review of DC public school suspensions, we found that D.C.'s charter schools and traditional public schools both had suspension rates that were about
double the national average
. D.C.'s charter schools also reported expulsion rates that were double the rate for the nation. Furthermore, the city's suspension rates for black students and students with disabilities were higher than for students across the country.
We recommended
that D.C.'s education agencies collaborate on a plan to reduce discipline rates.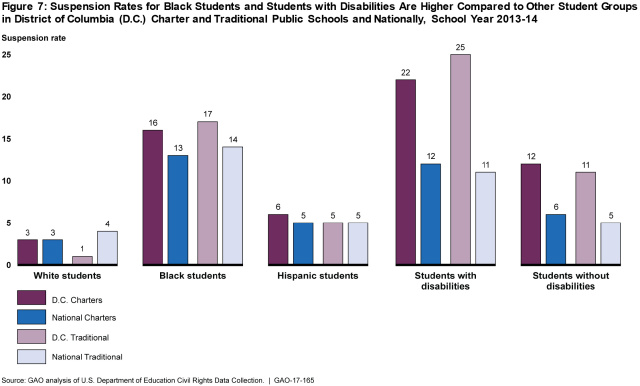 (Excerpted from GAO-17-165)
Challenges at Indian schools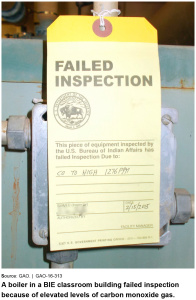 We also found
a number of issues
with Bureau of Indian Education schools, including deteriorating facilities, serious lapses in school safety, and poorly trained safety staff who were not held accountable for poor quality or late inspections. For example, 69 of the 180 BIE school locations were not inspected in 2015—an increase from 55 locations in 2012. Further, 54 schools had not been inspected at all in the past 4 years. Due to these (and other) critical problems with the federal government's management of BIE schools, we added this topic to our
High-Risk list
in February 2017.
Students with autism
About 1 in 68 children were identified as having
autism spectrum disorder
in 2012—and we found that youth with ASD face challenges
transitioning from high school to adulthood
. For example, stakeholders told us that
school districts may not provide timely plans to help these students transition to adulthood
once out of school, youth with ASD lack the same job opportunities as other recent graduates
to get services like vocational training, students must negotiate complex systems geared more toward adults
The Individuals with Disabilities Education Act requires that school districts help youth with ASD prepare for the world outside of school, and the majority of districts reported doing so. However, we found that the services a student receives depend on the size and poverty level of the school district.
(Excerpted from GAO-17-352)
See the
6 recommendations
we made to help youth with ASD transition to adulthood, and listen to Jackie Nowicki, a director in our
Education, Workforce, and Income Security
team, share more about what we found:
Education of children in nursing homes
Finally, we looked at the educational needs of children living in nursing homes, who often have medical conditions that present unique challenges. For example, of the nearly 5,000 school-age children in nursing homes nationwide, about 40 percent needed a feeding tube for nutrition in 2012. The relatively small size of this population
makes it difficult for the government to collect information
on whether these children are receiving appropriate educational services under the Individuals with Disabilities Education Act.
(Excerpted from GAO-14-585)
We recommended that the federal government explore using existing oversight mechanisms at nursing homes to better ensure that these children are properly educated. In March of this year,
we met
with the Departments of Education and Health and Human Services to explore ways to provide additional oversight of this vulnerable and largely hidden population. To learn more about these issues, visit our website:
www.gao.gov
.
---