Stopping Antibiotic Resistance Before It Gets to Our Plates
Antibiotics are used by people all over the world to treat infections caused by bacteria, but antibiotic-resistance is on the rise. In fact, antibiotic-resistant bacteria are now one of the biggest threats to global health—leading to an estimated 2 million illnesses and 23,000 deaths in the United States each year alone. There is strong evidence that some resistance in bacteria is caused by antibiotic use in food animals—cattle, poultry, and swine. Today's WatchBlog discusses how antibiotic-resistant bacteria can spread from the farm to humans, and
federal efforts to investigate the source of any such foodborne illness outbreaks
.
Antibiotic Resistance: From Farm to Table
Antibiotics are used to prevent, control, and treat disease in food animals. However, low doses of antibiotics are also given to some food animals over long periods of time to help them grow faster and larger. As illustrated below, this long-term, low-level use of antibiotics may lead to the survival and growth of resistant bacteria—and their spread from the farm to humans.
(Excerpted from GAO-17-192)
Looking for the Source of the Problem
The Department of Health and Human Services and the U.S. Department of Agriculture are primarily responsible for ensuring the safety of the food supply, including the safe use of antibiotics in food animals. If a multistate foodborne illness outbreak does occur, HHS's Centers for Disease Control and Prevention leads an investigation—in collaboration with USDA and state agencies—to trace the outbreak back to its source. These investigations may involve looking into farms, slaughter processing plants, or other points where bacteria from food animals can be transferred to the human population.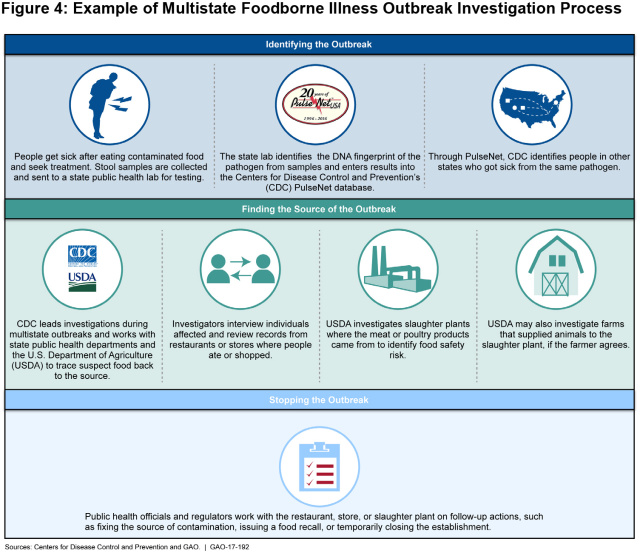 (Excerpted from GAO-17-192)
In 2014, USDA established procedures to assess the root cause of foodborne illness outbreaks—potentially involving on-farm investigations to identify factors that may lead to antibiotic resistance. However, following a 2015 outbreak of antibiotic-resistant salmonella, no such on-farm investigation occurred because stakeholders could not agree on whether one was needed. We recommended that USDA, in coordination with the CDC and other stakeholders, develop a framework to help them decide when to conduct an on-farm investigation. To learn more—including how other countries manage the use of antibiotics in food animals—check out our
full report
.
---