Mission Accomplished? What DOD Needs to Do to Address Its Key Challenges
Defending the nation is no easy task. DOD faces a wide array of evolving threats. And more than a decade of warfare has taken its toll on DOD personnel and equipment. So where does that leave the Department? Today's WatchBlog looks at the
5 key areas
DOD needs to improve to accomplish its mission. Read on and listen to our
Big Bite
podcast with Cathy Berrick, the Managing Director of our
Defense Capabilities and Management
team, for more details. [embed] [/embed]  
1. Rebalance forces and rebuild readiness
According to DOD, today's military forces are generally smaller and less combat ready than they've been in years. And each service—Army, Air Force, Navy, and Marine Corps—has been forced to cut back on training, maintenance, and modernization. Yet DOD's plans to get combat ready are not comprehensive. For example, the military services have not identified the strategies and resource levels they need to meet their readiness goals. In fact, we have 35 open recommendations to DOD since 2011 related to its plans to rebalance forces and rebuild readiness—5 of which are high priority.
2. Get cyber-ready
Cyber attacks are a bigger threat to the nation than terrorism, according to the former Director of National Intelligence. Last year alone there were more than 30,000 attacks against federal information systems—16 of which were considered major incidents. DOD must be ready to protect its own networks, as well as the nation, from these attacks. To that end, DOD has developed a cyber strategy, but there's more it can do. For example, it needs to strengthen its insider-threat awareness program. Since 2011, we have made 14 unclassified open recommendations to DOD in this area, including 5 priority recommendations.
3. Control costs and improve financial management
DOD accounts for nearly half of the federal government's discretionary spending. And its costs are growing. DOD plans to invest $574 billion to field 78 major defense programs, including the F-35, and military health care costs are expected to increase to about $70 billion by 2028.
(Excerpted from GAO-17-369)
Yet DOD remains one of the few federal entities that cannot accurately account for and reliably report its spending or assets. We've made 79 recommendations in this area since 2011—72 of which are still unaddressed, including 52 priority recommendations.
4. Manage human capital
DOD relies on a skilled and diverse workforce to carry out its mission. It plans to spend nearly $180 billion dollars in fiscal year 2017 on pay and benefits for its military personnel, and about $70 billion for its civilian employees—which is half of its total budget.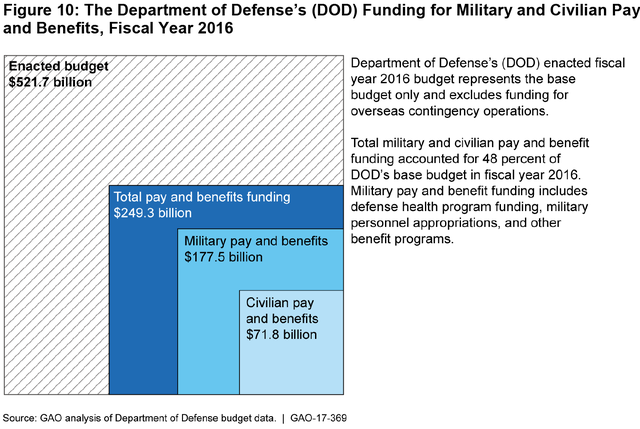 (Excerpted from GAO-17-369)
However, DOD lacks some staff with critical skills—such as cyber and engineering. It is also unclear if it has the right mix of military, civilian, and contractors in its workforce. The Department needs to complete a workforce assessment and improve its estimates of labor costs—in addition to addressing dozens of recommendations we've made since 2011 in this area.
5. Streamline business operations
DOD spends billions of dollars each year on business systems and contractors' services for financial management, supply chain and support infrastructure, and, of course, acquiring weapon systems. We found that the department needs to improve its business practices so that it can reduce overhead and free up resources for higher priorities. This is a longstanding challenge that DOD has not yet made much progress on. We
continue to track
what it is doing to address 38 open recommendations we've made since 2011 on how to improve in this area—including 8 priority recommendations.
Next steps
To address each of these 5 areas will require sustained leadership, enhanced strategic planning, improved management controls, and better ways to manage and control costs. We've made
thousands of concrete, actionable recommendations
to DOD over the years on how it could improve in these areas—78 of which are
priority recommendations
that require immediate action. Moreover, over half of our
high risk
areas—agencies or programs that are at high risk for fraud, waste, abuse, or mismanagement—are at least partially controlled by DOD. To learn more about the hurdles DOD faces, and what it can do about them, check out our
new comprehensive report
.
---