From Ellis Island to ELIS
Posted on September 15, 2015
Every year, millions of people apply to study, work, visit, or live in the United States. And for years, the U.S. Citizenship and Immigration Services have worked to transform the outdated system used to track and manage these applications. Today's WatchBlog has
our review
of these USCIS efforts.
Not your grandparents' Ellis
USCIS manages millions of applications using a
complex and inefficient system of electronic and paper records
that has been cobbled together over the years. For over a decade, USCIS has worked to transform this system into a single, online portal where people can create, manage, and track their applications. At the heart of this USCIS Transformation Program is a new system called the USCIS Electronic Immigration System—or ELIS.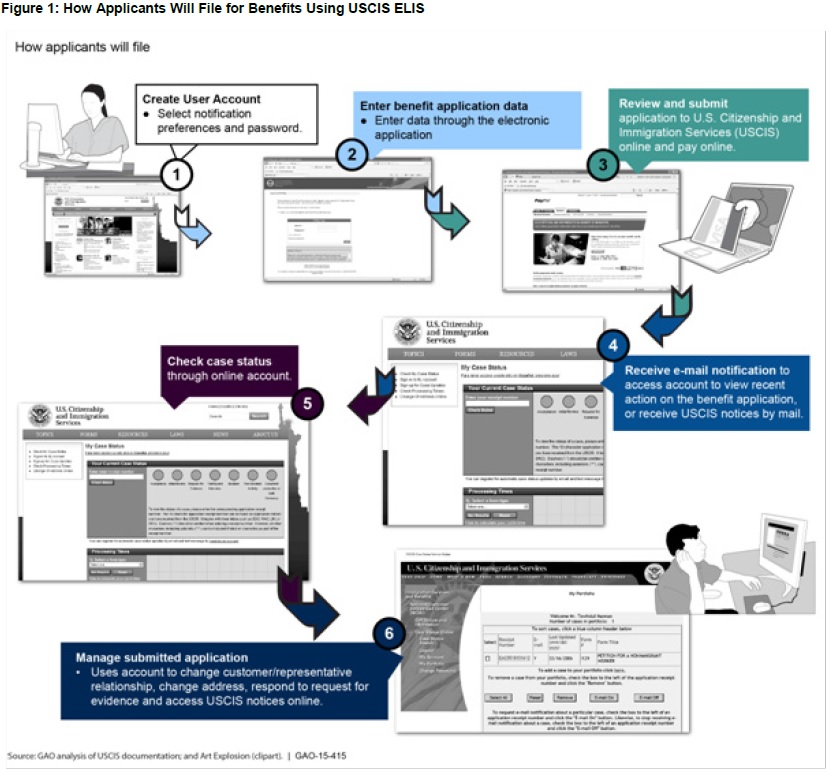 (Excerpted from GAO-15-415)
Of legacies and new beginnings
So far, the Transformation Program has cost a lot but delivered little. In 2008, after several years of planning and testing, USCIS awarded an initial 5-year, $500 million contract. It planned to launch the first release of its new ELIS system in May 2012, but an overly complex system architecture contributed to cost overruns, schedule delays, and performance concerns. In July 2011, after adjusting for the delays, USCIS officially committed to delivering its Transformation Program no later than June 2014—at a total
cost of up to $2.1 billion
. However, in March 2012, USCIS changed its acquisition approach. Among other things, it moved from a single contractor to many, and shifted to open-source, publicly available software. As a result, the parts of the ELIS system that were already released have to be rebuilt. Moreover, USCIS awarded contracts for its new approach without updating its planned costs, schedule, and performance expectations—even though it was clear that its initial plan no longer worked. This led to key decisions being made based on incomplete and inaccurate information. For example, a governing body's vote in March 2013 didn't account for the added costs of merging data from the old architecture with the new.
Are we there yet?
Today, only limited improvements are available to applicants and adjudicators. USCIS is making some progress…but at a cost. In March 2015, it fully deployed an initial set of capabilities for people renewing or replacing their permanent resident cards. In May 2015, it was announced that the Transformation Program is expected to be completed
no later than March 2019—now for as much as $3.1 billion
. We will continue to examine the Transformation Program and its implementation to help ensure that USCIS's modernized immigration system is better than what came before.
---
Questions on the content of this post? Contact Carol Cha at chac@gao.gov.
Comments on GAO's WatchBlog? Contact blog@gao.gov.