Our Prescriptions for Prescription Drug Abuse
Posted on September 03, 2015
Prescription drugs are generally safe when taken as directed, but they can also be abused. Moreover, some people try to use their insurance to pay for prescriptions they shouldn't be getting. Read on for our look at how two federal agencies are trying to prevent some of these prescription drug problems.
Prescription drugs in the wrong hands
Daring raids and piles of seized street drugs and cash. Those are typically the images people conjure when thinking of the Drug Enforcement Agency. That's great movie material, but the DEA also does a lot to keep drugs from hitting the streets in the first place. For prescription drugs like OxyContin and Vicodin, that means preventing diversion—when prescription drugs are stolen or illegally sold and, eventually, abused. As these drugs make their way down the supply chain from manufacturers to your local pharmacy, there are multiple opportunities for diversion and for all the dangers that stem from it.
(Excerpted from GAO-15-471)
To minimize these risks, the DEA requires all drug distributors, pharmacies, and doctors that handle controlled substances to register with the agency. If the DEA sees anything suspicious, it can launch investigations and pursue fines, jail time, or other penalties. But does trying to keep prescription drugs out of the wrong hands make it harder for them to get into the right ones? When we surveyed businesses and practitioners registered with the DEA in 2014,
over half reported changing certain practices due to the potential broader effects of DEA enforcement actions
. For example, some distributors put stricter limits on the amount of drugs pharmacies could order, and some pharmacies reported delays in filling prescriptions to check for legitimate medical need. To help fix these issues, we
recommended that the DEA take action to better balance patient access with abuse prevention
. While the DEA reported steps it would take to follow our recommendations, we believe it needs to do more to fully address the problems we identified.
Drug benefits can also be abused
Like prescription drugs themselves, drug benefits can also be abused. We recently looked into Medicaid prescription drug fraud. Among other issues, we found indications that
thousands of beneficiaries obtained $33 million worth of prescription drugs by doctor shopping
—that is, visiting at least 5 doctors in order to receive prescriptions for noncontrolled substances. We also found other indications of fraud perpetrated by individuals and prescribers.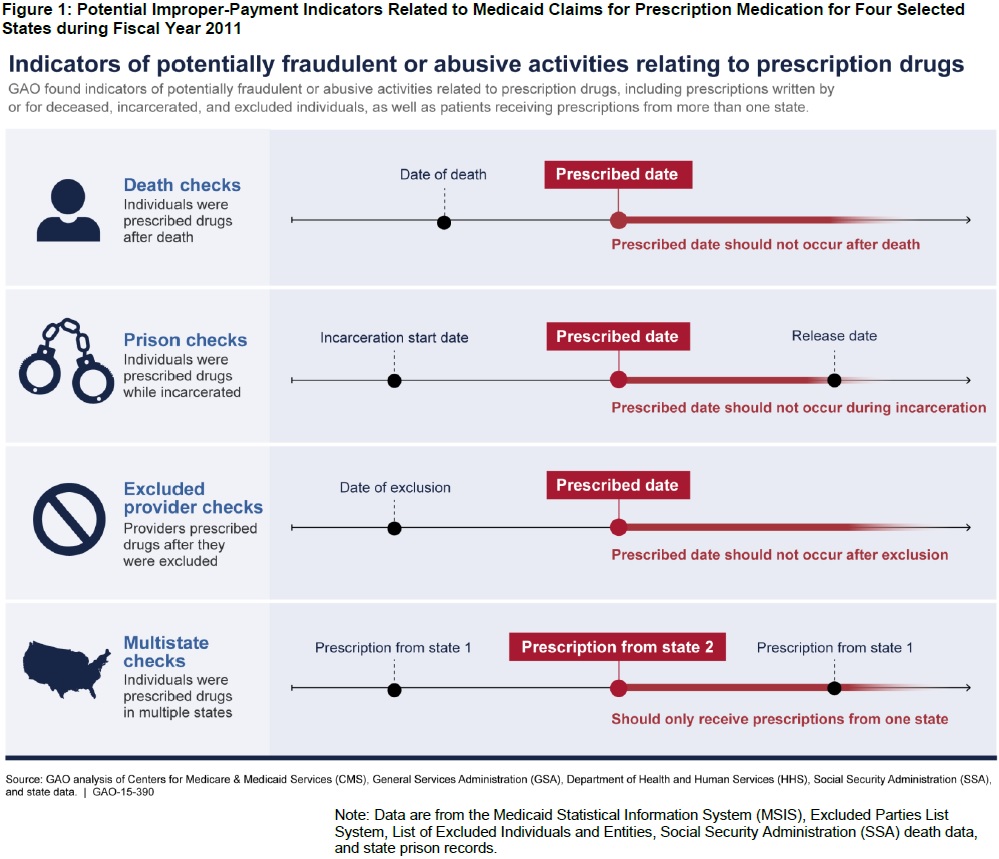 (Excerpted from GAO-15-390)
To help the Centers for Medicare & Medicaid Services better fight fraud, we identified two potential controls that aren't in CMS's current reporting requirements:
Lock-in programs for noncontrolled substances. Lock-in programs require suspect patients to use only one healthcare provider, one pharmacy, or both, in order to address doctor shopping. Why use them for noncontrolled substances? We found about 30 Medicaid beneficiaries with no record of having HIV who each got the HIV medication Atripla 12 or more times at a cost to Medicaid of at least $418,000.
Prohibition of automatic refills. Ending automatic refills may help limit waste and save money by making it harder for patients to fill unnecessary prescriptions and stockpile drugs.
CMS agreed with
our recommendations to require states to report whether they use these controls
and determine whether additional guidance is appropriate.
---