GAO's Summer Associate Legal Honors Program
Every summer,
GAO's Office of General Counsel
(OGC) holds a Summer Associate Legal Honors Program for second-year law students. The program is a primary hiring tool for building OGC's workforce of highly capable attorneys. Summer Associates who perform well may receive offers of permanent employment. OGC gives its Summer Associates significant responsibility by assigning them projects that are equivalent in complexity to those given to entry-level attorneys. To ensure that they get a full picture of GAO and the breadth of the work our attorneys do, Summer Associates work between 10 and 16 weeks and rotate through two of
OGC's various teams
. In addition to the important and rewarding work, Summer Associates enjoy a range of other experiences and activities. This year's class is taking exclusive tours of the Supreme Court, White House, and Capitol. OGC also hosts several social gatherings so our Summer Associates can meet their OGC colleagues in less formal settings. When we asked some of our recent Summer Associates to share what they liked best about the program, they mentioned the substantive and rewarding legal work, the collegial atmosphere, and the career opportunities. Here's what they said:
"In each of my two OGC team rotations, I researched and wrote memos on legal issues to support the work of GAO engagement teams. I found OGC to be a welcoming and collegial environment, and senior attorneys and supervisors were generous with their time and advice. In addition to learning more about the legal issues I worked on, I also gained a better understanding of GAO's role as 'Congress's watchdog' and the legal considerations that arise in supporting the agency's mission."
"The attorneys in OGC welcomed me warmly. I had the opportunity to visit several federal agencies and Capitol Hill on OGC business. Moreover, OGC planned interesting events for Summer Associates throughout the summer. For example, we took a tour of the Supreme Court and the Capitol, and I attended numerous social events outside the Office. I even played on OGC's softball team, the Law Dawgs."
"OGC's Summer Associate Legal Honors Program is one of the few federal government summer programs for second-year law students that give Summer Associates the chance to earn an offer to work for the agency after graduation. As someone motivated to do public service work, that was a big selling point for me."
OGC will be accepting applications for our
2016 Summer Associate Legal Honors Program
through our
Legal Careers website
from July 13 through August 21.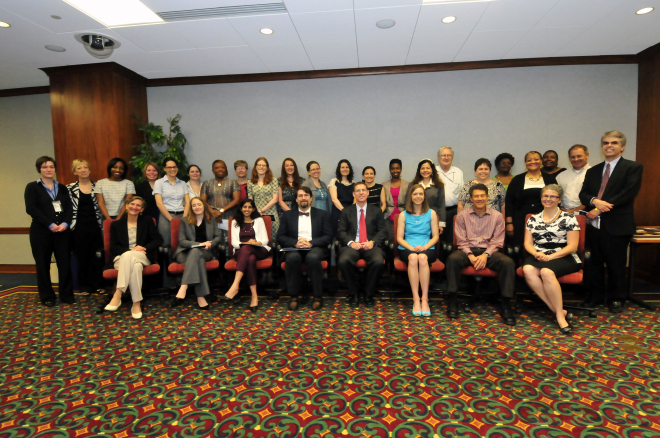 OGC staff at summer 2014 awards ceremony
---